Malancha Gupta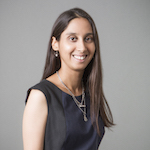 Gabilan Distinguished Professorship in Science and Engineering and Professor of Chemical Engineering and Materials Science and Chemistry
Education
Doctoral Degree, Chemical Engineering, Massachusetts Institute of Technology
Master's Degree, Chemical Engineering, Massachusetts Institute of Technology
Bachelor's Degree, Chemical Engineering, Cooper Union
Biography
---
B.S. Chemical Engineering, The Cooper Union, 2002
Ph.D. Chemical Engineering, Massachusetts Institute of Technology, 2007
Postdoctoral Fellow, Chemistry, Harvard University, 2007-2009

Led by Dr. Malancha Gupta, the Gupta Research Group is interested in studying the mechanism and kinetics associated with initiated chemical vapor deposition (iCVD) of functional polymers onto structured materials and liquid surfaces. The iCVD process eliminates the need for organic solvents and thereby offers a safer and cleaner alternative to liquid phase polymer processing. The iCVD process is not a line-of-sight process and therefore can uniformly coat a variety of structured materials such as filters, microfluidic devices, and pillars. Our group has recently demonstrated that we can deposit polymers onto liquids with low vapor pressures, including ionic liquids (ILs) and silicone oils. The liquid surface is mobile and unconstrained and thereby offers new initial conditions for growth and additional degrees of freedom which can be exploited to produce films and particles with desirable physical properties. We also use extremely low substrate temperatures to make membranes with dual-scale porosity. Our bottom up approach can be used to fabricate porous-on-porous structures with a wide range of chemical compositions and shapes. Our all-dry technique eliminates solvent-related issues and allows for the development of next-generation hierarchically structured materials for water purification and gas separation.



Research Summary
---
Research topics: Functional Polymer Films and Coatings, Chemical Vapor Deposition, Surface Modification and Patterning, Hydrogels, and Microfluidic Devices


Awards
---
2014 USC Viterbi School of Engineering Junior Faculty Award
2014 American Chemical Society Petroleum Research Fund Doctoral New Investigator
2013 NSF CAREER
2013 USC Viterbi School of Engineering Jack Munushian Early Career Chair
2012 NAE Frontiers of Engineering Education (FOEE) symposium Selected Participant
2004 MIT Chemical Engineering Special Service Award
2002 Cooper Union Elmer J. Badin Chemistry Award
2002 Cooper Union Howard M. Siegel Memorial Prize in Chemical Engineering
Appointments
Mork Family Department of Chemical Engineering and Materials Science
Office
HED 208
Hedco Pertroleum and Chemical Engineering Building
925 Bloom Walk, Los Angeles, CA 90089
USC Mail Code: 1211
Contact Information
(213) 740-2067
malanchg@usc.edu
Links